Full Biography And Net Worth Of Toke Makinwa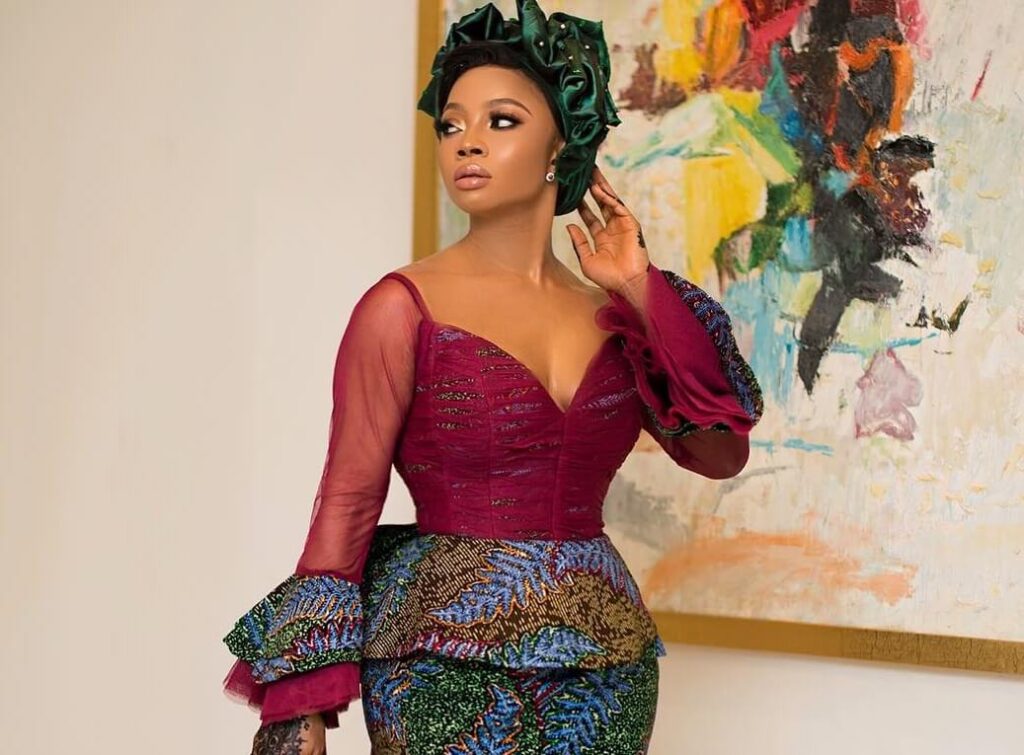 Toke Makinwa is a popular Nigerian style icon, Vlogger, businesswoman, and On-Air Personality. She is one woman who has turned the Lemons life threw at her into Lemonade. This article is on the biography of Toke Makinwa and her journey to fame.
Related: Biography and net worth of Burna Boy
Birth and early life
The biography of Toke Makinwa begins from her birth. She was born on the 3rd of November 1984 making her currently 36 years. Her place of birth was Lagos State. She had her Secondary Education at the Federal Government Girls College in Oyo State. She bagged a Bachelor of Arts in English and Literature from the University of Lagos.
She is the 2nd child out of four children. When she was 8 years old, she lost her both parents in a fire accident. She was raised by Mr. and Mrs. Akinyelure.
Marriage and personal life
On the 15th of January 2014, Toke married Maje Ayida, a fitness entrepreneur and her boyfriend of over eight years. She separated from Make in 2015 after she discovered that he was responsible for his ex-girlfriend's pregnancy. Her marriage was officially dissolved by the Lagos High Court on the 5th of October 2017. The divorce was on the grounds of Adultery committed by Maje Ayida.
Net Worth
There's a lot of hullabaloo surrounding Toke's source of income. It's important to note however that besides being an On-Air Personality, Toke is a Vlogger, businesswoman, and is the recipient of several endorsement deals. She is estimated to be worth $2 million as of 2019. This makes her one of the richest media personality there is.
Related: Biography and net worth of RMD
Career
From the biography of Toke Makinwa, you would elicit that she didn't have it all rosy. Sheer grit and determination made her stand out.
Toke made her major debut in the media world on Rhythm 93.7 FM. She co-hosted the Morning Drive", a show on Rhythm FM. This happened in 2010.
In 2012, Toke appeared on television as a host for the Most Beautiful Girl in Nigeria beauty pageant. The show was broadcast live across states in Nigeria. In the later part of 2012, she alongside Tosyn Bucknor and Oreka Godis served as hosts for Flytime TVs "3 Live Chicks". Prior to expansion by being shown on television, the show was initially a web series. Toke was replaced by Omalicha, her colleague, after she didn't renew her license with Flytime TV, for the second session of the show.
Toke launched her YouTube channel called "Toke Moments" in 2012. She talks about a lot of things on the channel and won the hearts of a lot of Nigerians. She gained a bigger following as the Vlog allowed Nigerians know more about her person. It was in 2012, that she won the On-Air Personality of the Year.
In 2013, Toke was the host for a number of events, top on the list is the 2013 Future and City People Awards. She also hosted the 2014 Headies Awards.
In January 2014, Toke was announced as the host of the talk series "Trending" owned by Hip Hop World Magazine . She also joined EbonyLife TV as a co-host of its flagship show Moments.
In November 2016, "On Becoming", Toke's memoir was released. She talked about life without her parents, as she lost them at eight. She also wrote about her experience with her ex-husband, Maje Ayida, and their marriage. After she released the book, she went on a book tour to promote the book. Some countries she toured includes South Africa, Nigeria, the U.S, the U.K, and parts of East Africa.
2017 came with a major win for Toke. She launched her handbag line under her label, Toke Makinwa Luxury.
In 2018, she launched a skincare product, "Glow" by TM.
Related: Biography and net worth of Tiwa Savage
Endorsement deals
Toke Makinwa became the ambassador for the United Africa Company of Nigeria, in 2013. Her ambassadorial deal was alongside Dan Foster, Osas Ighodaro, and Dare Art Alade. Toke became the face of Maggi, after signing a multi-million naira contract with Nestle.
Related: Start saving in Nigeria
She has been an ambassador for Payporte and Ciroc and became the brand ambassador and face of Mecran Cosmetics in 2016. In November 2019, Toke signed an endorsement deal with Oppo Mobile Telecommunications and became their brand ambassador.
Toke Makinwa and controversies
The biography of Toke Makinwa can't be, without the controversies surrounding her and the manner she handled them. Toke has been the recipient of several backlashes on social media. After she released her book and talked about bleaching her skin, Nigerians came for her.
This was despite her stating that she did it to please her husband, as he liked light-skinned women. Toke, being who she is and knowing how to Turn Lemons into Lemonade took the backlash in stride and launched Glow by TM in partnership with Buluwa Inc. Glow is a skin lightening product line.
Related: Biography and net worth of Cardi B
Toke was also criticized for going under the knife and getting the body of her dreams. She has always encouraged women to get the body of their dreams if they want to. Toke, not being a newbie to backlashes and criticisms does not hesitate to flaunt her body in pictures she posts on her social media pages.
Awards
The biography of Toke Makinwa has to include the numerous awards she has been nominated for and the ones she has won.
In 2012, The Future Awards nominated her for On-Air Personality of the Year (Radio).
She won the Outstanding Female Presenter of the Year in 2013. This was awarded by the Nigeria Broadcasters Awards. In the same year, she was nominated by Nigeria Entertainment Awards as Radio OAP of the Year.
In 2014, she was nominated for four awards. Nigeria Entertainment Awards nominated her for Entertainment Personality of the Year and Best OAP of the year. Nickelodeon Kid's Choice Awards also nominated her as Favourite Nigerian On-Air Personality. Toke was also nominated for Eloy Awards, TV Presenter of the Year & Brand Ambassador (Maggi).
In the year 2017, Toke Makinwa won Glitz Awards Style Influencer of the Year. She also won Avance media's Most Influential Young Nigerian in Media.
Toke went ahead to win the 2018 Africa Youth Award for 100 Most Influential Young Africans.
Related: Biography and net worth of Ibukun Awosika
Comments
comments