Full Biography And Net Worth Of Omoni Oboli
Omoni Oboli is a household name in Nigeria. She has brought entertainment to the television of Nigerians and put chuckles on their lips. This has endeared her largely to her Nigerian audience. She is a Nigerian actress, scriptwriter, film director, producer, and digital filmmaker. The biography of Omoni Oboli is an interesting one.
Related: The full biography and net worth of Hadiza Gabon
Birth, early life, and education
The biography of Omoni Oboli typically behind from her birth. She was born on the 22nd day of April 1978 in Benin City, Edo State Nigeria. She is, nonetheless, a descendant of Mosogar in Delta State, Nigeria. Omoni is the last child of her parents. She has just one sibling.
Omoni Oboli attended Delta Steel Company Primary School and the Delta Steel Company Technical High School for her secondary education. Whilst in secondary school, Omoni Oboli was a member of the debate society and the drama club. She wrote plays for the club and also acted and directed the plays.
On completing secondary school, Omoni gained admission into the prestigious University of Benin, to study Foreign Languages. She ended up majoring in French and graduated with a second class upper.
Omoni went on to the New York Film Academy, where she took a course in digital film-making.
Personal life
Omoni Oboli is married to Nnamdi Oboli, and they are blessed with three boys. They got married in 2000 and she was only 21 years old then.
Related: The full biography and net worth of Tiwa Savage
She resides with her family in Canada but comes down to Nigeria now and then for work.
Net worth.
Omoni Oboli is estimated to be worth $2 million which is about 800 million Naira.  This puts her as one of the wealthy Nollywood actresses in Nigeria. Her sources of wealth are from her movies and her several endorsement deals.
Endorsement deals
Omoni Oboli is the brand ambassador for Nunu Milk. She was endorsed by Pedini Nigeria, as their brand ambassadors.
She is also an ambassador for Royal Caribbean Nigeria. She is also the owner and brand ambassador of ageless by Omoni 3D mink lashes.
Related: The full biography and net worth of Funke Akindele
Career
The biography of Omoni Oboli explores her career as an actress and movie producer.
Omoni Oboli had always wanted to be an actress from childhood. She entered the Nigerian movie scene immediately after secondary school. Her movie career began officially in 1996 with her debut in "Bitter Encounter". Her superb acting prowess created more movie roles for her. She eventually took a break, to attend to her University education.
Omoni Oboli graduated and got married, soon after and had a break from the movie industry till 2006. She acted in some movies and then in 2007, went ahead to produce her first film.
Related: The full biography and net worth of Toyin Aimakhu
Being a driven woman she released her first movie as a director in 2014. Omoni Oboli is also an author. She wrote the book, The Stars Are Ageless.
Omoni Oboli movie list and production year
Bitter Encounter – 1996
Not My Will – 1996
Destined To Die – 1996
Another Campus Tale – 1996
Guilty Pleasures – 2009
Entanglement – 2009
The Figurine – 2009
Bursting Out – 2010
Anchor Baby – 2010
Bent Arrows – 2010
Feathered Dreams – 2012
Stolen Tomorrow – 2013
30 Days in Atlanta – 2014
Brother's Keeper – 2014
Render to Ceaser – 2014
Being Mrs Elliot – 2014
As Crazy As It Gets – 2015
Fifty – 2015
Lunch Time Heroes – 2015
The Duplex – 2015
First Lady – 2015
Code of Silence – 2015
Of Bad Faith – 2015
Wives on Strike – 2016
Okafor's Law – 2016
Wedding Party 2 – 2017
Related: The full biography and net worth of Destiny Etiko
The Women – 2017
Wives on Strike: The Revolution – 2017
My wife and I – 2017
Wings of a Dove – 2018
Moms at War – 2018
Love is War – 2019
Sugar Rush – 2019
Oloture – 2019
Philanthropy
Omoni Oboli created the Omoni Oboli foundation in April 2012. Its goal is to provide aid to women and children who are less privileged in society.
On her 40th birthday, she established Sister Lizzy's Kitchen, aimed at feeding 500 children every week.
Coupled with the above, she has also, through the foundation, taken the pupils of Ecole Divine Nursery and Primary School to a milk factory to see how milk produced. This has helped broaden the world view of the children.
Her foundation also helped feed over two hundred children from Delta Steel Complex, Aladja giving them a swell time.
Related: The full biography and net worth of Toke Makinwa
Awards and nominations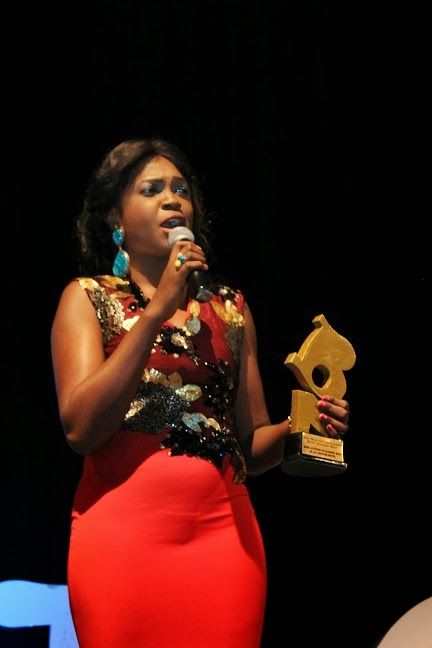 The biography of Omoni Oboli will not be complete if the various awards and nominations given to her, are left out. Best Actress Narrative Feature at the Los Angeles Movie Awards in 2010.
In 2010, Omoni Oboli received an award for Best Actress at the Harlem International Film Festival. In 2010, she was nominated for the Actor of the year category at the Future Africa Awards. She was nominated in 2011 for Best Actress in a leading role at the Africa Movie Academy Awards (AMAA).
Big Screen Actress of the Year at the ELOY Awards in the year 2014. Omoni Oboli was a Nominee for Best Actress in a Leading Role (English) at the Best of Nollywood Awards (BON) in the year 2014.
She was nominated for Best Actress in a Leading Role at the Face 2 Face Africa Awards in 2014. She was honored as Sun Nollywood Personality of the Year in 2015.
She was Best Actress in a Leading Role (English) nominee at the Best of Nollywood (BON) Awards in the year 2016. Omoni Oboli was a Nominee for Best Actress (Nigeria) at the Ghana Naija Awards in 2018.
Related: The full biography and net worth of Simi
Legal issue and controversy
Omoni Oboli's, Okafor's Law Premiered on the 24th of March 2017. It was not screened at the premiere, however, due to the court injunction it had. Omoni Oboli was accused f copyright infringement, by Jude Idada, who made claims of writing part of the script. The movie was eventually released on the 31st of March 2017.
Conclusion
The biography of Omoni Oboli is one rife with a passion for acting. It's a no brainer that when you are good at something, you excel. This is simply the story of Omoni Oboli. Her excellence at acting has distinguished her.
Comments
comments