FarmCrowdy Profile – About, Employees, Net Worth, Founders, And All You Need To Know
Introduction
FarmCrowdy is the first Nigerian Agricultural technology company there is. They specialize in linking farmers up with other farmers, providing them with the necessary seeds, knowledge, and technology to run their farms.
Related: Piggyvest Profile – About, Employees, Net Worth, Founders, And All You Need To Know
About
FarmCrowdy Agritech Company was founded by Onyeka Akumah. While at a technology conference in Abuja, Nigeria, he found out how technology was changing the face of the sheep farming business in China. This inspired him and gave birth to the idea of FarmCrowdy. At that point, however, there was no solid plan.
Onyeka Akumah went on to research the agriculture business in Nigeria for several months. His findings worried him.  He realized that farmers faced three major problems among others. Some of their major challenges were
Access to the market
Input and
Technical-know-how.
This led him to come up with a crowdfunding model. He eventually resorted to a partnership model. With this model, everyone would be given an opportunity to participate in agriculture.
Onyeka Akumah realized he could not do this alone. He needed a team to help him achieve his brainchild and help him build it into an empire. Before he chose his co-founders, he bore three factors in mind. The first was similar values, then contribution, and third, commitment. He was not willing to accept any less or lower his standards.
The quest for building a team kicked off with Ifeanyi Anazodo, who is now the current Vice President, Data Intelligence in FarmCrowdy. Ifeanyi Anazodo worked previously with Etisalat Nigeria as a brand consultant.
The next person brought on board was Akindele Philips. He has a background in accounting and is the current Chief Financial Officer for FarmCrowdy.
Related: Paystack Profile – About, Employees, Net Worth, Founders, And All You Need To Know
Afterward, Christopher Abidun joined the ship as the Chief Technology Officer. This happened in February 2016. Christopher Abidun was Onyeka Akumah's longtime friend and had taught him Java Programming previously.
African Farmer Mogaji joined the team in May 2016. He was first a consultant then later became the Chief Operating Officer in July 2016. He eventually resigned from the company in February 2017 to focus on working with one of the government ministries. He is still a stakeholder of FarmCrowdy.
Temitope Omotolani was the final person to join the founding team in August 2016. She brought her hands-on farming experience and in-depth knowledge of the agriculture business to the game. She eventually became the Chief Operations Officer.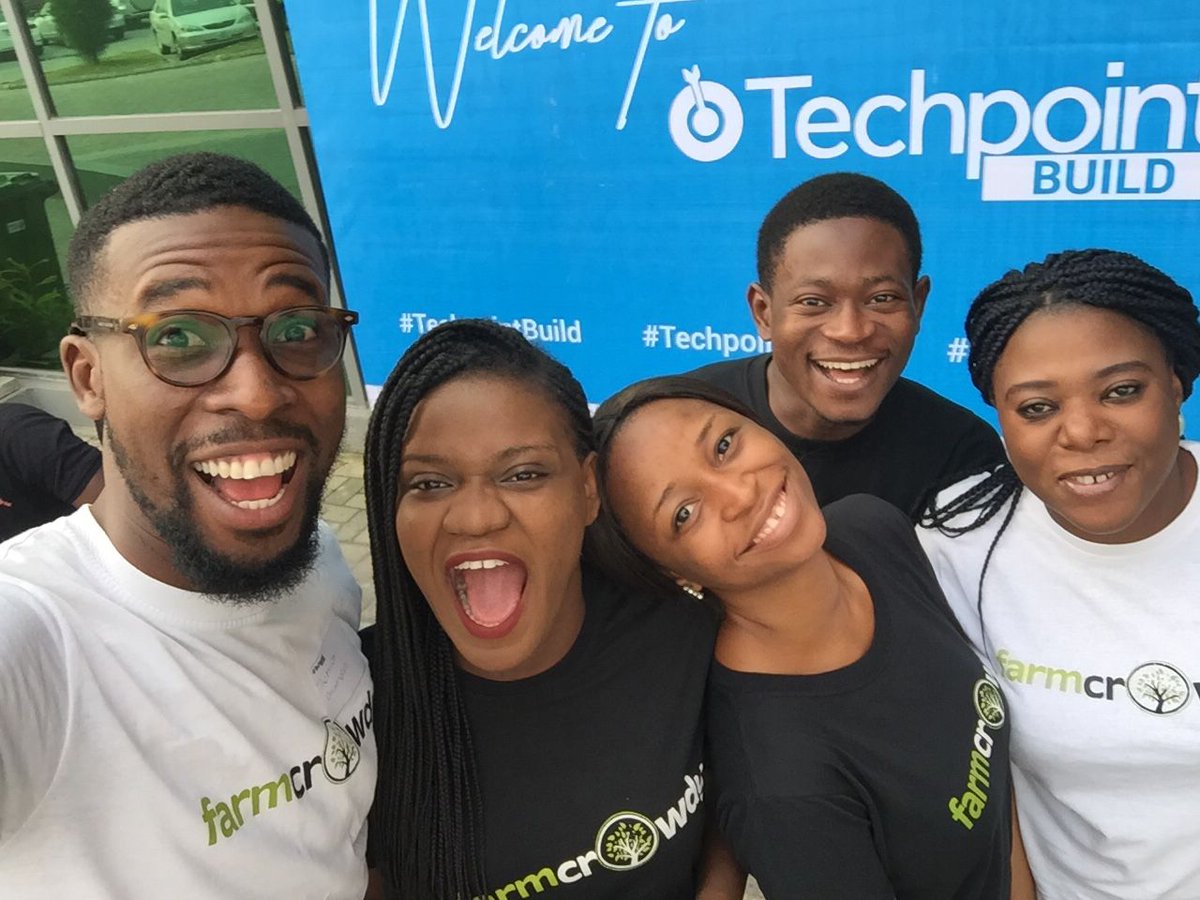 Trouble came for the company when more than half of their first poultry farm birds were lost in transit due to heat. There were also other distressing events with their first tomato farm. This made the cultivating, harvesting, and preparing of the tomatoes in time for the off-takers impossible. These events and others had to make the co-founders rethink the whole project.
Farmcrowdy has since become Nigeria's foremost leading agri-tech company. They have empowered over 12,000 farmers cutting across 13 states in Nigeria. They have reared almost 2,000,000 birds, cultivated 16,000+ acres of farmland with over 35,000 farm units sold.
Farmcrowdy Group was born on the 21st of March with the goal of building agri-tech solutions that will enable the achievement of food security in Africa.  Currently, they are comprised of subsidiaries including Farmcrowdy and Farmgate Africa.
Related: Flutterwave Profile – About, Employees, Net Worth, Founders, And All You Need To Know
Location
2, Opeyemisi Bamidele Crescent, Off Freedom Way, Ikate, Lekki Phase 1, Lagos Nigeria.
Executives
Onyeka Akumah – Chief Executive Officer and Founder
Jimoh Maiyegun – Chief Technical Officer and Co-founder
Akindele Philips – Co-founder and Chief Financial Officer
Christopher Abiodu – Co-Founder and Technology
Tope Omotolani – Co-founder and Chief Operations Officer
Ifeanyi Anazodo – Co-founder
Oluwafemi Owoeye- Senior Finance Officer
Tomiwa Ogunmodede – Head Program and Product Development
Employees
FarmCrowdy Agritech Company has over 42 individuals under their employ.
Salaries
The average salary at FarmCrowdy is about thirty-two thousand Naira.
Funding rounds
FarmCrowdy Agritech Company underwent their Pre-Seed funding round on the 10th of July 2017 with two investors. The amount realized was not disclosed.
On the 1st of August, they underwent the convertible note with one investor and realized a hundred thousand dollars ($100,000).
Their Seed funding round was on the 18th of December 2017, with ten investors and they realized one million dollars ($1,000,000).
Their Grant funding round happened on the 26th of February 2018. The investor was GSMA Ecosystem Accelerator. They realized three hundred and twenty-five thousand dollars ($325,000).
The Seed round happened on the 21st of March 2019, with three investors and one million dollars was raised.
Investors
Some of the investors in FarmCrowdy includes Ajayi Solutions, Techstars, Cox Enterprises, GSMA Ecosystem Accelerator, Josephine Group, Social Capital, FC Agro Allied SPV, Michael Cohn, Hallett Capital and much more.
Net Worth
The exact net worth of FarmCrowdy is not known but there are speculations that they could be up to a million dollars.
More information
Today, FarmCrowdy Agritech company has grown to a team of over fifty-five individuals. These individuals have worked with over 25,000 rural farmers across the 16 states in Nigeria. Some of the states include Kano, Niger, Nasarrawa, Ogun, Oyo, Osun, Edo, Akwa-Ibom, Lagos, Plateau, Kaduna, Adamawa, Niger, Kwara, Abuja, Sokoto, and Benue.
The Vice President of Nigeria, Professor Yemi Osinbajo, described FarmCrowdy Agritech Company as the company creating the new wealth in Agriculture. They were also later honored with the National Productivity Order of Merit by the President of Nigeria, Muhammadu Buhari. This happened in August 2019. The Oyo State government has also announced a partnership with Farmcrowdy to onboard 50,000 rural farmers in Oyo State.
Related: Interswitch Profile – About, Employees, Net Worth, Founders, And All You Need To Know
Conclusion
It is rather commendable that no sector is left fallow, growth-wise. The Nigerian agricultural sector has been long due for a revamp and for attention to be given to it. FarmCrowdy Agritech Company has picked up the gauntlet and has done an amazing job while at it.
It has not been so rosy for the Agritech company, however, as their Chief Executive Officer, Onyeka Akumah revealed in an interview that they record huge annual losses, in trillions of naira. This can be said to be due to a lot of factors, including the insecurity in the country.
Comments
comments